Creating content is now an accepted part of every real estate agent's repertoire. But it can be time consuming and can make you feel like you're on an endless treadmill of content creation that never gives you a break.
In today's competitive real estate landscape, standing out from the crowd and establishing a strong online presence is crucial for success. Content creation plays a pivotal role in attracting and engaging potential clients. However, it's essential for the balance of your business and your life to get the most impact from the content you create. That requires a strategic approach which allows you to work smarter on your digital footprint rather than harder. Here's seven simple ways to squeeze more content from your everyday activities.
Repurpose Your Content
Instead of reinventing the wheel, repurpose your existing content in various formats. Convert blog posts into video scripts, infographics and podcasts. Transform property listing descriptions into visually appealing social media posts. By repackaging content, you can reach different audiences and extend the lifespan of your material.
Begin by taking the time to flesh out one blog post, listing or topic into many different media and platforms.
Leverage User-Generated Content
Encourage clients to share their experiences and testimonials. Feature their stories on your website or social media channels. User-generated content not only adds authenticity but also creates a sense of community and fosters trust. It's a win-win strategy that expands your content library while building strong relationships with satisfied clients.
Start by reaching out to your best clients and close friends and watch the momentum expand from there.
Capitalize on Visual Content
Real estate is inherently visual. That makes it the perfect opportunity to leverage captivating visuals. Invest in high-quality photography, virtual tours, and videos to showcase properties. Additionally, consider creating visual content that educates and informs, such as infographics or slide decks. These will engage your audience and establish yourself as an expert in the field.
Get accustomed to being in front of the camera. But keep your clips short. Record blocks of advice and insight, but splice into super short clips.
Incorporate Guest Contributions
Invite industry experts, interior designers, or local business owners to contribute guest articles or provide insights for your blog. Collaborating with others not only diversifies your content but also expands your network and enhances your credibility within the community. This approach fosters valuable partnerships and attracts a wider audience.
Don't forget to make sure your guests share the content that they're featured in. This instantly expands your exposure without the cost of digital ads.
Optimize for Search Engines
Implementing search engine optimization (SEO) techniques is crucial for ensuring your content gets discovered by potential clients. Conduct keyword research to identify relevant terms and phrases, optimize your website and blog posts with those keywords, and create informative and valuable content that answers common real estate questions.
Always add in alt image tags and headers with your chosen keywords. Don't forget to include a strong meta description which also features your keywords and key locations.
Engage with Your Audience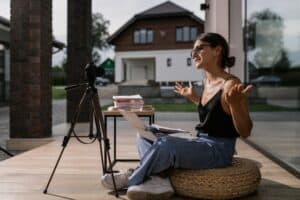 Content creation should be a two-way street. Actively engage with your audience through comments, direct messages, or live Q&A sessions. Use their feedback, questions, and concerns as inspiration for future content topics. By nurturing these interactions, you not only build rapport but also generate ideas for fresh and relevant content.
7. Reuse Content
Because of social media algorithms and user behavior, many of your posts will go unseen by many or most of your followers. That makes it prime for reusing and recycling! This is especially true for evergreen content.
Update timely content each year with just a quick refresh to give you a new supply of content that will feel "new" to your audience.
By implementing these strategies, you can effectively generate more content from your existing creations. By repurposing, leveraging user-generated content, capitalizing on visuals, incorporating guest contributions, optimizing for search engines, and engaging with their audience, agents can expand their reach, establish credibility, and foster lasting connections with potential clients. Remember, in the world of content creation, the possibilities are endless—so seize every opportunity to maximize your impact and grow your real estate business, without spending all of your time on your phone!