USE REAL ESTATE POSTCARDS AS A MARKETING TOOL TO
REACH YOUR TARGET AUDIENCE.
Direct mail marketing is an effective and familiar way to reach your clients as a real estate agent. From just-listed postcards showing your clients new properties on the market to sold postcards explaining how now is a great time to sell, real estate marketing postcards are a huge asset for your business.
Also known as farming, sending postcards to your clients may seem simple, but here are a few of our best tips for successful postcard campaigns.
What is a real estate postcard?
A real estate postcard is any postcard you send to your clients as an agent, detailing the state of the market, inviting them to an open house, advertising your services, or just about anything else related to real estate.
The main goal of a real estate postcard is to draw in your clients, share information with them, and give them a call to action. A call to action is something that will encourage your clients to reach out to you to inquire about your services by signing up for emails, setting up home valuation, or inviting them to an event or open house.
Steps to Successful Postcard Campaigns
1. Use Real Estate Postcard Templates
Your postcard designs can make or break your marketing campaign. When designing your postcard, make sure your content is legible, your photos are high-quality, and your contact information stands out.
If you're looking for real estate postcard templates, check out the My Marketing Matters online platform for customizable templates! Find summer postcards, just listed templates, and more. Using templates for your design will help keep your marketing materials consistent, giving you a recognizable brand.
Get tips on how to create an eye-catching real estate postcard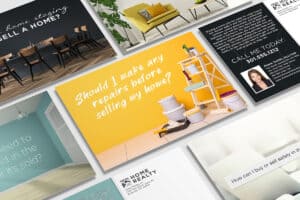 2. Put Together Effective Mailing Lists
Many people think digital marketing is more effective and less expensive than print. However, a postcard marketing campaign can more effectively reach your target audience because they are geographically based and inexpensive to print and mail. Using a targeted, clean mailing list, you can reach potential clients by homeowners, residents, home types, and more.
Our new List Manager 2.0 has a clean, modern look with enhanced mailing list curation features:
Our new auto-mapping on uploaded lists

Label view

Single building search query.
When you start using and combining our new lists, you can view individual addresses and list details, including how those lists were created, from your account.
Check out our products and services.
The new My Marketing Matters List Manager also makes it easy to reload any user uploaded lists and import them into the new system with enhanced filtering for bad and questionable addresses. This means new and improved mailing addresses with better deliverability, fewer returns, faster sorting, and savings on postage.
3. Create a Larger Marketing Campaign
The real estate business is continually growing and changing, and your marketing campaigns should reflect that. When you send out postcards, the call to action you use can drive your clients to your website or social media accounts, allowing you to reach them from a few different platforms.
When you can reach your clients from different platforms, you create marketing that is effective, long-lasting, and memorable.