TIPS FROM MY MARKETING MATTERS ON HOW TO ENCOURAGE POTENTIAL SELLERS TO LIST THEIR HOMES.
Right now, housing supply is low.
The current real estate market makes it hard to find sellers. From a lack of affordable housing options to fewer homes for sale, just sold postcards for realtors and door flyers are a few good ways to cultivate more leads.
Find more sellers with these tips:
1. Sending postcards 
Postcards work because they're a cost-effective way to market your business. Postcards also have some of the highest ROI, making them a great way to make good use of your marketing budget. 
Some common real estate postcard options include: 
Just sold real estate postcard –  A sold postcard can show off what you've recently sold or how much a home in the neighborhood recently sold for. This information will reassure your potential sellers that you have the knowledge necessary to sell their homes and that they will get a great offer for their homes. 
Agent postcards – Introduce yourself to new clients or remind your farm who you are, what you do, and how to help them. Be sure to include your contact information. 
Listed postcards – Showing off what is currently on the market can make selling a home feel more reasonable for a client. Right now, they may be hearing that there are no houses on the market, so show them that there are great houses out there for them to land in! 
What is your home worth postcard – With the market changing so frequently, it's hard to know how much a home is worth right now. So, send a postcard to potential sellers encouraging them to give you a call to assess their house, what it could be worth, and what that means for them. 
When creating your postcard campaign, look for postcard templates that include calls to action, eye-catching postcard designs, and your contact information.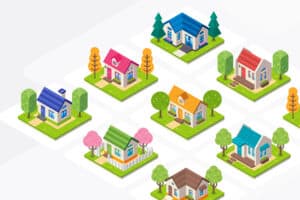 2. Just Sold Flyers
Another great way to attract potential sellers is with just sold flyers. By advertising a home that has recently sold in the neighborhood, potential sellers can get a good idea of how much similar homes are selling for in their area. This can be incredibly reassuring for those considering selling their home since it provides them with the reassurance that they will get a reasonable price for their home. 
Just sold flyers are also an excellent way to show off your success as an agent, allowing potential sellers to put their trust in you confidently. 
Giving these clients a peek into what selling a home looks like right now allows you to provide them with the confidence they need to make their next steps. 
3. Introduce Yourself and Your Services 
As a real estate agent, you have a unique set of skills to help people find a home! Make sure you are marketing yourself to potential clients and reintroducing yourself to old clients who may be looking to sell again. Be sure to highlight what makes you different and your unique skill set. 
4. Find Ways to Generate Leads 
To grow your business, you will need to find ways to generate leads. Generating leads puts you in touch with new clients or reintroduces to clients you may have worked with in the past. 
Some popular ways to generate leads include: 
Using a List Manager 

Sending promotional direct mail to potential clients 

Growing your social media presence

Attending networking events

Creating an email list to stay in touch with clients 
If you're looking for more ideas on how to generate leads, check out our blog post here.