Presale renovations is a hot new buzz phrase that has emerged in the last few years. You've probably seen the ads all over the internet and social media. Get that home updated, you'll sell faster and the seller pays for the renovations. Couldn't be easier, right? But are these pre-packaged presale renovation companies the convenient solution that they're marketed to be?
Some brokers feature their own presale renovation services, which typically utilize third-party contractors. Then there are national, independent services like Curbio that work exclusively with agents and use a network of their own contractors.
What updates do presale renovation companies perform?
Keep in mind, presale renovations are not designed for the homes that require a complete gut. Instead they're for the homes that already have "good bones," but just need that cosmetic facelift. See the potential in a seller's home? Could it command a higher price with simple updates like on-trend paint colors and new flooring? Simple renovations like these could mean the difference of tens of thousands of dollars.
Part of the reason these businesses can claim cost-effective renovations in a shortened time frame is that they limit their scope of services and the materials they use. These aren't custom renovations, they're designed to create move-in ready clean slates. Generic enough to not look too personal while still on trend to catch the eye of buyers.
We're talking about cosmetic features like flooring, fixtures and painting. Also, think of the items that often get flagged on a home inspection that cause delays in closing, like roofing, siding, driveways, electric, HVAC and mold remediation. These companies can also undertake full bathroom and kitchen remodels.
What are the benefits of presale renovation services?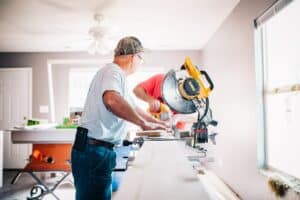 Unlike a general contractor, presale renovation services are designed to be streamlined and homeowner friendly, here's why:
No upfront costs – While a gc will need cash at the time of services, a presale renovation company becomes a partner in the selling process. They do not charge anything before the close of the sale. This is perfect for homeowners who don't want to spend money or don't have the funds for updates and upgrades before listing.
Faster renovations designed for sellers – Some of the hesitation of undertaking a remodel just before a move is the fear that it will drag on and expand beyond the original scope. These companies tout using special project management technology along with a finite set up updates to get in and get out quickly.
A limited set of options protects you from seller analysis paralysis – Curbio for instance allows homeowners to choose their upgrades from a catalog of options featuring the latest styles and the most availability.
No loss guarantee – Look into this feature with the service you use, it can ensure that your seller will not be help responsible for any of the renovation costs, even if the home sells for less than expected.
What are the possible downsides to presale renovation services?
Convenience can come at a cost. Depending on the types of repairs that are needed, it can be cheaper to hire a local contractor. This can be especially appealing if you already have a trusted contractor that you can rely on.
Strings may be attached – It's important to read the find print. Is there a minimum renovation budget? Curbio recently removed their minimum and now does everything from low-cost cleanings to luxury whole home remodels. They also took away the 2% home price reduction clause for renovations under $25k. It's important to read the fine print. There may be a contingency that the seller must lower the price after a certain time on market.
Although a seller's market means less renovations are typically needed, few homeowners will pass on the opportunity to achieve an even higher closing price with no investment on their end. It can also mean a larger commission check without additional work. Which is a nice option to consider.