Real estate agents rely on promotional items more than most independent businesses. Because real estate agents need to brand themselves to stand out from the crowd, promo gifts can help  build this brand recognition and foster client loyalty. Items, like t-shirts, notepads and bottle openers, serve as tangible reminders of a realtor's services, creating lasting impressions and reinforcing their presence in clients' lives.
Because these items say a lot about who you are and what your brand stands for, it's important to choose to distribute wisely. In 2023, what are the most effective real estate agent promotion gifts? Likewise, what types of promo giveaways should you avoid? Let's sift through the ever-growing selection of swag and see what's best to stock up on and what to avoid.
Best Promotional Giveaway for Real Estate Agents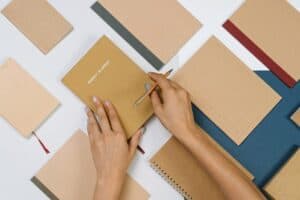 Branded Pens
What makes them good? Pens are everyday items that have a high chance of staying with potential clients. Who doesn't need another pen? Pens are also one of the few items it seems socially acceptable to "steal" from another person. We've all had that prized pen that magically disappears one day. Just be sure the pens you choose write well and have a solid feel, with extra touches like gel ink or a cushioned grip.
Average Cost: About $1 per pen.
Magnetic Calendars
What makes them good? Magnetic calendars stick around, quite literally. If you're located in a sports town, opt for a season-specific game schedule, which most sports fans will happily display on their refrigerator. It's also a great way to show you're a fan and support the home team just like your clients. Another equally useful magnetic item is the chip clip which no household ever seems to have enough of.
Average Cost: Around $0.50 per calendar
Personalized Notepads
What makes them good? Notepads serve as useful tools for clients to jot down notes, reminders, or ideas. They are a universally useful item. You don't need to be a sports fan or wine drinker to find a blank note tablet a practical addition. They are also a good investment because the user needs to consciously look at your logo each time they write or read every page of the tablet. That's a lot of glances at your logo! You can further customize in special shapes or by opting for sticky notes or tablets with a magnetic backing.
Average Cost: Between $0.50 to $1 depending on details.
T-Shirts
What makes them good? T-shirts for instance, have the ability to be seen by a vast number of people when they are worn out in public. That's the reason why t-shirts remain a popular promo piece across industries. Choose soft t-shirts with a bit of stretch that provide a good user-experience. This makes them much more likely to be a popular item in anyone's wardrobe rotation. Creating an attractive design, such as celebrating a town or neighborhood, can be just the thing to take your custom clothing from promo piece to craved collectible.
Average Cost: Costs vary but expect to pay around $10 per shirt.
Promotional Items Realtors May Want to Avoid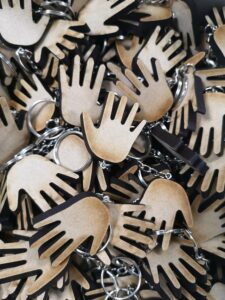 We've all experienced coming home from a fair or trade show with a pile of useless promotional pieces we don't know what to do with. Don't let your pieces be part of that pile! You can help prevent your pieces from being tossed by avoiding items that users don't have much use for. These include:
Generic Keychains
Keychains have become somewhat cliched promo items and are often forgotten. When you think about it, choosing a keychain is a very personal decision and most people won't choose a random piece of promotion as the thing they use every day.
Cheaply Made Items
Stress balls, golf tees, beer koozies, candy tins, phone wallets and magnetic business cards are all items that have a high probability of getting tossed in the trash. This also goes for key-shaped bottle openers, fidget spinners, or novelty toys that fall into the category of "things we didn't know we didn't need." None of these items present a lasting impression or have a chance of sticking around for a long while.
Disposable Items
Items like single-use plastic water bottles can send the message that you're contributing to environmental concerns. They also don't provide lasting value as they will quickly be tossed away. It's a better option to invest in less items that have a better chance of providing value over disposable, plastic pieces.
Factors to Consider When Choosing Your Real Estate Promotional Items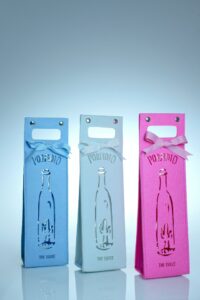 With so many products to choose from, it can feel a bit overwhelming deciding which items to commit your marketing budget to. In order to make the best picks, here's a few steps to take before you press the "order" button.
Relevance to Your Brand
The first question you should ask yourself is, "What does this product say about me?" Every promotional piece, whether it's a postcard mailer, your website or a physical item should support the feeling and image you want your brand to present.
Practicality and Usefulness
The best promotional products serve a purpose in clients' lives. This means they won't quickly end up in a "giveaway" box. It also gives your product a chance for maximum exposure. Remember, your brand doesn't benefit from a promotional piece that gets kept, but sits in a drawer somewhere forgotten.
Quality and Durability
It's tempting to sacrifice quality in order to purchase a higher quantity of items that you can spread out to more recipients. But your items' quality directly reflects your professionalism. Essentially you want your pieces to build trust, not call it into question. Even though you weren't responsible for their manufacturing, your name will be attached to it, inextricably tying your name to the product.
Branding Opportunities
When choosing a product, you want to make sure the physical landscape provides enough space to include all of your information, such as your logo, contact information, and other branding elements. Also, consider the pass-through rate and visibility of each product. For instance, a desk caddy may go into a home office and never be seen by anyone outside of the home, whereas a t-shirt might be seen by hundreds of people each time it is worn.
Promotional Items for Luxury Real Estate Agents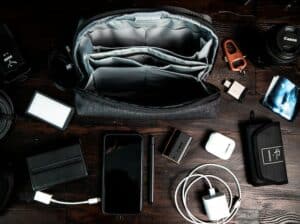 When it comes to courting a luxury clientele, it's important to select higher-quality items. If you've already gone to great lengths to brand your business to luxury home buyers and sellers, with a refined logo, image and expertise, it's crucial that your promotional gifts remain in line with this persona. In general, lean into items that serve a utility, such as wine totes, insulated bottles and mugs, and totes.
These make more useful gifts than traditional "luxury" items like journals, portfolios or desk caddies which many recipients may not want featuring your branding. In general it's best to steer away from household decorative items that most people would shy away from displaying if it features a prominent logo or promotion. In today's digital world, clients are always in need of a spare charger or storage device. Here's where your promotional items can fill a need. Consider wireless speakers, wireless chargers, power banks and charging bricks, all which not only deliver an elevated message, but demonstrate your embrace of technology and modern conveniences.