Are you a real estate agent considering using the NextDoor app for leads? The NextDoor app is 14 years old, so it's certainly not new tech. Still it's relatively underused compared to other more well-known social media networks like Facebook, LinkedIn, or Instagram. The NextDoor app is unique because it uses your home address to create your profile. Therefore, you are instantly placed within your community, allowing you to connect with other users who are nearby.
For those unfamiliar with the NextDoor app, this can immediately sound like a treasure trove of leads and networking, but please proceed with caution. Real estate agents who already are active on the social media platform understand why. The NextDoor app is notoriously strict when it comes to their no self-promotion policy.
Although there are paid sponsorship opportunities, the reviews are mixed when it comes to the viability of this method for promoting listings and other posts. Costs vary depending on the local market you're attempting to access; however, there are multiple ways to use the app at no cost and that's what we'll focus on here.
How to Use the NextDoor App for Real Estate Leads for Free
1. Go slow and nurture your profile.
Don't look at the NextDoor app like you would a networking event or mailer promotion. It's certainly not that and you will get your posts deleted or worse for not following the rules. Instead, be on your best behavior and be a helper, not a promoter. Spend 10-15 minutes a few times a week answering requests from other users. This could be everything from asking for a home remodeling referral to a restaurant recommendation.
2. Post a poll.
You can get a conversation going with other homeowners by posting a poll or other conversation starters. Think of NextDoor like a neighborhood block party. You wouldn't walk up to someone and start promoting a listing, but you might ask which place has the best wings for game day. NextDoor'ers don't like self-promotion, but they love to voice their opinion on all things local. Just stay away from incendiary topics as NextDoor is certainly not immune from social media toxicity.
3. Ask your key clients for help.
Referrals are a central part of the NextDoor app. You are allowed to promote yourself when someone asks for recommendations on your area of work. But what's even better? If someone else recommends you. Such a referral can do wonders for your brand. Target specific clients who you know use NextDoor and ask them if they can do you this favor. You may be amazed at how many are happy to help, particularly if they are thrilled with your service. Even a loved one or friend can be this poster. Although they may not carry as much weight as a satisfied client, there's still something to be said for a third party providing the promo.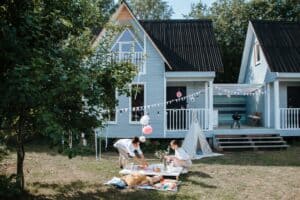 4. Post statistical updates and other non-promotional information.
We won't lie. It can be tricky posting real estate-related information on NextDoor. Plenty of agents have been flagged for posts which are not at all self-promotional, but just are deleted by overzealous community moderators. If one of your posts gets deleted, it's best to remain calm and be positive and supportive within any communications you may have with moderators. You'll want to make friends, not enemies with those who will have a say in which of your posts get approved. Insights should never contain a call-to-action or request for business.
5. Don't overlook your business page.
Make sure your profile is fully completed. Add in a friendly photo, fill out your bio and don't forget to complete the business page. This is especially helpful because if someone recommends you they can easily tag your business name in their comment or post. It's an easy way to ensure you're giving people all the information you can about you.
6. Publicize PR opportunities.
Fundraisers and other community-focused feel good pieces are great for NextDoor. What's even better is when they are 100% authentic and sincere. Focus on where your interests lie and you'll soon have plenty of ideas that marry promotion with good deeds. For instance, if you are an animal lover, maybe you can initiate a dog supply collection for a local rescue or collect books for a needy school in the area. People love to contribute to a good cause and this type of initiative can be a win-win for your business and the community.
The NextDoor app is a great resource for information and connections to your local community. Because it's much more strict and stringent with its rules on posting than other sites, it's important to take a gentle, tactful approach that emphasizes community involvement and conversation over promos and listings. Although this may be a slow burn networking formula, just like other social media platforms, momentum can build with consistent nurturing and attention. Approach NextDoor as a helper looking to be a guide to your community, rather than a lead generating opportunity and you may be surprised at the rewards you'll get in return.